Life blossoms in Calgary all year long! Embracing winter is only one part of what makes this city and its people so great. It's an everyday attitude that says, "yes we can," and finds the opportunities to add something more to people's lives.
Brookfield Residential has been building in Calgary since 1958. In fact, one in five Calgarians live in a Brookfield Residential community. With 60 years of experience building homes and communities in this city, there are many reasons why Calgary is the best place to call home. We collaborated with Calgary Economic Development to tell you why you might consider a move to this energetic city.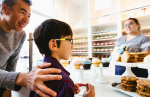 Quick Facts about Calgary
Calgary offers all the energy of a large metropolitan city with the warm and welcoming spirit of a connected community. It was ranked the most livable city in North America and the fifth most livable city in the world by the Economist Intelligence Unit (2009 – 2019). Here are a few things that help make Calgary a great city to call home:
Calgarians enjoy more days of sunshine than any other major Canadian city – 333 days per year in fact!
Calgary is home to more than 1.4 million people.
Our citizens are young: the median age of Calgarians is only 37.2 years.
Calgary is the third most diverse major city in Canada with more than 120 languages spoken in the city.
Calgary is 848 square km in size, or 327 square miles.
Calgarians are community-minded – Albertans hold the second-highest national volunteer rate at 55 per cent. ­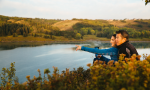 Calgary is a mountain city with a dry climate directly related to its altitude. Temperatures are mild – the highest on average in July is at around 23.2 degrees celcius (73.8 degrees fahrenheit). When compared to the rest of the country, even when it's cold in Calgary, it's sunny.
Calgary is connected to everything, and the average commute time is only 26 minutes. With the second lowest traffic congestion and lowest commute time of major cities in Canada – getting around here is easy! Whether you ride a bike, walk, drive or take public transportation, there are many ways to explore the city or get to where you need to be.
Traffic infrastructure in Calgary is based on a grid system and the city is divided into four quadrants: north-east (NE), north-west (NW), south-east (SE), and south-west (SW). The city has many major freeways such as Stoney Trail, a ring road with over 101km of free-flow travel around the city, and Deerfoot Trail, a major north-south freeway. Traffic volume flow maps are available from the City of Calgary. You can also see the historic traffic volumes on the City of Calgary's website.
In Alberta, provincial tax, personal income taxes and inheritance taxes are among the lowest in the country. Not only is provincial health care insurance free, but Alberta is also the only province in Canada without a sales tax – with only a five per cent government sales tax (GST). Calgary has the second lowest cost of living in Canadian cities and is more affordable than many large North American cities. We also have the most affordable housing market in North America.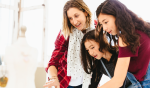 Brookfield Residential's Presence in Calgary
At Brookfield Residential, creating the best places to call home goes beyond the high‑quality homes we build and sell to customers. Together, we build sustainable communities where people live their best lives, connect with neighbours, and take advantage of all the amenities outside their front door.
Highlights of what makes our communities unique are our homeowner facilities and parks – these spaces and places are cherished in our communities to support programming and events that inspire movement, arts, culture, and outdoor activities year-round. Our parks and pathways are catalysts for connection within our communities – often places where neighbours meet for the first time and kids make fast friends.
And best of all, Brookfield Communities are located across the city and are easily accessed off Stoney Trail or Deerfoot Trail. This makes a weekend adventure to the mountains or an errand around the city easy to navigate from all of our communities.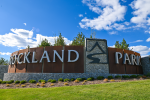 North Calgary offers communities close to nature and filled with life. NW Calgary has Rockland Park, our newest community that offers incredible views and an outdoor lifestyle. Bordering NE and NW Calgary along Center Street is Livingston, a modern and vibrant community that is centered around the Livingston Hub. The Hub is the largest private homeowners association facility and park in Alberta and features an NHL sized hockey rink, amphitheater, gymnasium, outdoor ping pong tables and so many gathering spaces for programs and events.
In SE Calgary there is a community for every taste. Seton offers the amenities and convenience of downtown living with the nearby Seton urban district offering employment, entertainment, and services. Cranston's Riverstone is nestled on the banks of the Bow River with seemingly endless beautiful scenery adding luxury to your morning walks, evening runs, or afternoons at the playground with the kids. Artesia is just south of Calgary and offers the amenities and convenience of the city but the lifestyle of country estate living.
Homes in Brookfield Residential communities range in product type, style, and price range. There are apartments and condominiums that might start in the low $200s, duplexes and laned homes from the $400s and single-family homes starting in the $500s to estate homes with all of the luxuries starting at $900k. Many of the builders now offer virtual tours and appointments to get more information on our homes from your current home.
The future holds a lot of promise for Brookfield Residential in Calgary. With a population that's still growing, new industries adding value to the economic outlook, and an established cultural and recreational life, Calgary is on its way to being a dominant Canadian metropolitan. The city is rife with opportunities for career and personal growth that can appeal to almost anyone.