The Rockland Park Homeowners Association (HOA) is dedicated to creating fun for the whole family. It will offer events and programming that connect residents to the community and to each other.
A Place To Connect
Built to elevate your quality of life, your new Homeowners' Association (HOA) is the catalyst for a four-season recreational lifestyle, amplified by a sense of belonging and connection with nature, neighbours and the community. The modern, rustic design of the professionally managed lifestyle centre and the surrounding four-acre park will provide motivating, flexible and inspiring environments for a variety of events, programming and experiences.
Brookfield Residential Homeowners Associations are complete with signature amenities that can be found throughout their HOAs around North America. One feature they are excited to bring to the Rockland Park HOA is an outdoor pool and hot tub.  An incredible amenity for residents and their friends to enjoy during summer days to cool off and for swim and fitness classes.
Renderings are concepts only and are subject to change.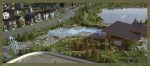 Places and Spaces to Belong
Key Features:
Please note this is a preliminary site plan and is subject to change.
A) HOA building
B) Hot Tub
C) Main pool location - transition/beach entry + 4x20M swim lanes
D) Poolside shade shelters and loungers
E) Multi-age playground
F) Central fire pit and gathering space
G) Landscaped area
H) Casual skate trail/adventure trail
I) Hockey rink/basketball/modular skate board area
J) Flex space
K) Picnic/BBQ shelters
P) Possible community garden plots
Q) Amphitheatre/outdoor classroom with pond views
R) Space with outdoor views
Growing with the community
Encumbrance fees will be applicable to all homes in Rockland Park when the HOA facility opens. Fee notices will be mailed/emailed to every property in Rockland Park and information will be posted on the Rockland Park connect website and in the e-newsletter.
Encumbrance amount:
$600 (+GST) per year for single family homes, laned homes, and duplex homes
$450 (+GST) per year for multi family homes (condos, townhomes)
HOA fees are tied to the City of Calgary Consumer Price Index (as issued by Statistics Canada) and can be increased above the Encumbrance amount by the annual Consumer Price Index (CPI) amount, also called the "Adjustment Amount." The Adjustment Amount is applicable each calendar year after 2019.
What's a Homeowners' Association (HOA)?

Many communities have an HOA—an organization that helps neighbours feel a sense of belonging. The HOA facility will be built in the heart of the community to inspire healthy, active lifestyles. Every resident of Rockland Park, from babies to seniors, can connect to enjoy signature programming and events at the facility.

What's the role of an HOA?

The association's primary role is to support the operations of the HOA facility. It also enhances maintenance throughout the community, and is a not-for-profit organization.

Your association, your vision

The HOA is a catalyst for community engagement. As Rockland Park grows, our HOA will continue to support the vision and needs of our residents. Every resident is automatically a member of HOA, and volunteer residents will sit on the governing Board of Directors.
Meet our ambassadors
Get the scoop on Rockland park from our Community Ambassadors. Awani and Josh are happy to talk about the neighbourhood and share its vision for the future.
Come by and say hello:
Mon–Thurs, 2–8 p.m.
Sat, Sun & holidays, noon–5 p.m.