Rockland Park was named the Best New Community of the Year at the 2021 BILD Calgary Regions Awards!
A lot goes into award-winning communities and Rockland Park is no exception. This is the first new master-planned community in Calgary's north-west in a long time! This is a highly desirable corner to our city and we are so excited to be introducing a whole new community to this part of Calgary.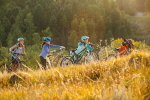 What goes into an award-winning community?
Integrating the outdoors was a key factor to developing Rockland Park. Being situated at the bend of the Bow River means breathtaking views of the river valley – some of those views right from some  backyards. We took special care in preserving as much of the natural landscape as possible, even planting additional native-species trees to ensure the view remains lush and full of life.
In total, there is 120 acres of reserved green space at Rockland Park, which includes 80 acres of environmental reserve along the Bow River Valley. Through the other 40 acres, you'll find winding trails and -maintained park space. We also included a stormwater system revolving around the communities' wet ponds. As water collects in the wet ponds, sediments and pollutants start to settle and ultimately separate from the water, providing clean water back into the Bow River.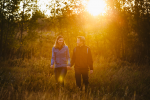 Rockland Park's bright future
Our community development team's passion for building master-planned communities from the ground up is on full display at Rockland Park. Integrating the surrounding preserved natural space back into the community remains an important part to this developing community. We will be breaking ground on Rockland Park's Homeowner's Association building later in 2022. This new addition to the community will include social spaces, play spaces, and an outdoor pool for community residents to enjoy.
Once complete, an estimated 8,900 Calgarians will call this community home. We are so excited to see this community continue to grow, welcome more new neighbours, and continue adding value to the lives of Calgarians. We hope many more Calgarians can call Rockland Park the best place to call home.