One of the best parts of any community are the local spots where you can sit down and enjoy a quick bite or a full family meal. This is where the waitress knows your name, the cook knows just how you like your dish, and you probably have a go-to table any time to swing by.
The Rockland Park area has no shortage of great restaurants to explore. Whether you're looking for a high-end experience, a taste of a culture you've never explored, or a solid slice of pizza, this community has you covered!
Though this list is far from exhaustive (and we know someone will bring up an amazing place we might have overlooked), we want to go into six amazing places to eat near Rockland Park.
Menu mainstays at this fine dining establishment include duck breast, foie gras, hand rolled gnocchi, and a revolving selection of Icelandic seafood specials. Not to mention, the perfectly flame-grilled steaks and racks of lamb – all cooked over an apple and birch wood charcoal blend. Make sure to save room for dessert! The Chocolate Hazelnut Entremet is a near perfect French-inspired dessert that perfectly concludes almost any meal.
Moving from the highbrow right to everyone's lowbrow favourites, Munchie Burger and Taco Joint serves up exactly what the name promises – plus a whole lot more. The Notorious P.I.G. will have you calling a burger Big Papa with its Angus beef patty, bacon, pulled pork and BBQ sauce. The Birria Tacos come with either chicken, beef, or pork like every good taco should; and if you can't decide, order the Taco Combo and try all three!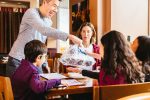 Some of the best Filipino food you can find in Calgary is nestled in this north-west eatery. You have not experience pork belly until you try the Lechon Kiwali – deep friend pork belly rendered to perfect tenderness. The Tapsilog features garlic rice with two sunny-side-up eggs, tender marinated beef and a garnish of pickled papaya.
A neighbourhood pub that serves breakfast, lunch, and dinner? How do they pull it all off so well? But if you're venturing to Silver Point Pub, it's all about the pizza! You won't regret trying the donair pizza with donair meat, red onions, fresh tomato, and that sweet cream sauce we all crave after the bar at 2 a.m. – you won't even regret it the next morning. For something a little more familiar, the Canadian includes pepperoni, ham, bacon, mushrooms and onions in this perfectly executed classic.
Priding themselves in working with select local farmers and producers for almost everything that comes out of their kitchen. NOtaBLE delivers on the farm to table experience with their entrees, like the Alberta Bison Flank served with dried cherry brown butter and Poplar Bluff potatoes. Or the Cinnamon Roast Duck Breast with pan-seared thyme and orange bread budding.
The French-inspired café is a community favourite for breakfast, lunch, or one of the best cups of coffee you'll ever try. For breakfast, try the Classic French Toast made with brioche bread, topped with fruit, rice cereal, and almonds. When lunch rolls around, it's all about the Café Sandwich: ham, bacon, onion and cheese, grilled exactly the way every sandwich deserves to be.