Just over a decade ago, building a residential community in Rockland Park was almost unimaginable. This area was an industrial centre for Calgary, first producing gravel before moving to cement mixing in the 1990s. Further, the surrounding natural landscapes and various species of trees were relatively left untouched.
This northwest location was one of the last remaining opportunities in Calgary's northwest. Brookfield Residential saw great potential within these lands, with its many connections to surrounding areas including Glenbow Ranch Park, Haskayne Park, Bowmont Park, and Bowness Park (as well as the Bow River).
In 2010, Brookfield Residential purchased the lands and started the process to remediate the land in Rockland Park in 2014, making it suitable for a new residential development. Thankfully, the team didn't see the untouched landscapes and industrial history as a hurdle. Instead, the community integrates the natural landscape, providing a seemingly endless playground for active lifestyles.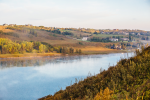 Landfarming and concrete blasting
The first step to creating this new community was making the land itself safe and secure. The Brookfield Residential team put the area through a landfarming process. This involves using existing soil and building materials to restore and support the ground itself, while also enhancing the surrounding natural landscape.
In addition, concrete was blasted to bring much of the land back into a state where it could be remediated. The blasting was necessary to ensure the large slabs of concrete from the area's industrial days could be moved out safely and efficiently. Most of the concrete did not go to waste though – some slabs were crushed down even further and used for the base on some of the roads and deep fill areas requiring a little extra structure to hold up the land.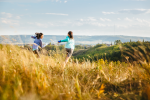 Keeping the natural landscape
Preserving biodiversity was a priority for the Brookfield Residential team. The team planned 120 acres of green space for the community. This was established through Rockland Park's system of parks and trails along the Bow River's curve. This dedicated green space includes the 80 acres of environmental reserve, which included a tree planting initiative focused on the area's native plant life.
Rockland Park's sustainable design goes beyond restoring the natural landscape. Brookfield Residential took a four-seasons approach with outdoor amenities. This includes a stormwater system revolving around the communities' wet ponds. As water collects in the wet ponds, sediments and pollutants start to settle and ultimately separate from the water, providing clean water back into the Bow River.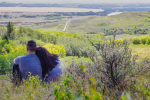 Looking ahead at Rockland Park
Rockland Park will welcome approximately 8,900 new residents looking to call this community home. With the first collection of lots selling quickly and the next slate of lots becoming available in 2022, there has been a lot of anticipation and excitement for Rockland Park.
Rockland Park is an incredible piece of Calgary that Brookfield Residential is so grateful to bring back to life. Being able to work creatively and sustainably to bring on smart growth is important to growth in Calgary as a whole. For Brookfield Residential, it was a joy to redevelop Rockland Park and contribute a city already full of innovation.