Calling Rockland Park home means finding those perfect spots for Fido to burn off some energy, get a hair and nail trim, and finding all your dog essentials. It's a community built for families, retirees, new homeowners, and pet lovers alike!
With this in mind, we picked out some of the best places across the neighbourhood tailor made for you and your canine companion. Take a look and discover if Rockland Park is right for you and your pooch.
In under ten minutes, you can find yourself taking in breathtaking views of the city's natural landscape. With hiking trails, pathways, and even an off-leash area, this park is sure to keep your doggo happy for hours. Fun fact: did you know the park got its name because it was approximately 12 miles from the post office at Fort Calgary to the coulee?
A quick jaunt on Nose Hill Drive will take you to an amazing off-leash area – and some of the best views across the Bow River you can find. Connected to Bowmont Park, this is the perfect place to let your pupper explore while you take a day for yourself, spend some time with the family, or hang out with friends and have a coffee.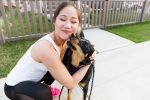 Best Spot for Doggie Essentials – Doodle Dogs
Ask folks living at Rockland Park and they will tell you the drive up to Signal Hill is totally worth it for this unique puppy boutique. From essentials like food and treats to bonuses like toys and even matching fair isle sweaters, this local-owned doggy-emporium carries products that put your four-legged friends' health and happiness first.
Best Spot to take Doggo for a Bath – Hair of the Dog
Locally owned by folks passionate about keeping doggies clean, Hair of the Dog offers bathing, hair and nail trimming, ear cleaning, and even teeth cleaning! Hop in their website and you can see and read profiles on the team of groomers and why they love helping doggos, puppers, woofers, and floofers so much.